Concession Trailers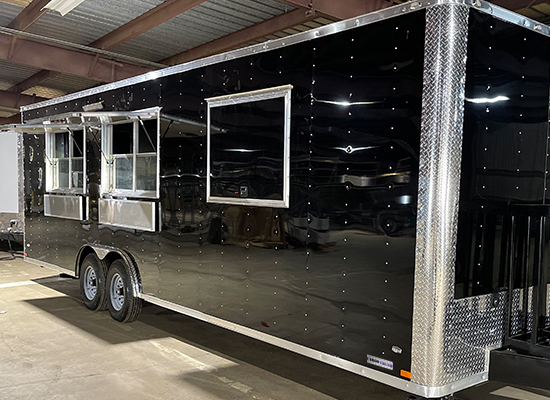 If you have been looking at concession trailers lately, chances are you're not seeing the lowest prices or the best quality.
Our Enclosed Cargo Concession trailers are built better and include more standard options than most! Get the facts by Calling:
(334) 721-3385 today.
You don't have to buy someone else's grease trap just to be able to afford a concession trailer. Buy it new, get what you want, and pay less than you think!
Concession Trailers For Sale
Have you been thinking about cashing in on a food vending business? Are you already in business but looking for a roomier, safer, and better-equipped concession trailer? Either way, we have the features, quality, and low pricing you'll love. We carry small ones and big ones too.


Many options include electrical connections, water and storage tanks, ventilation and serving windows, and more. Our single and tandem axle concession trailers are built with quality materials and backed by a five-year warranty.
Concession Trailer Pictures
*Click on any image to view full size.
Quality Materials
Your trailer is hauling more than just your cooking and vending equipment, it's transporting your livelihood too. That's why it is important to know what materials yours is built with. You can rest easy knowing yours was built with steel tubing and not a flimsy z-bar or hat post. Confidence comes with the premium plywood walls and not OSB like others use.
We sell the best concession trailers in Alabama.