Custom Enclosed Trailers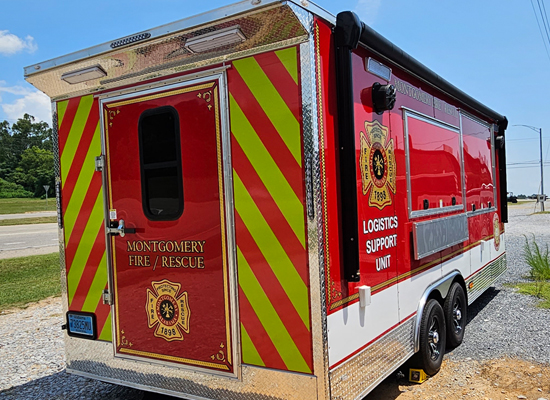 When it comes to buying custom enclosed trailers, getting exactly what you want means everything.
When you have your enclosed customized trailer designed, planned and built with us, you get exactly what you dreamed of! Call us today with your needs at
(334) 721-3385 today.
The good news is that we specialize in custom building any size enclosed trailer with anything you can think up or dream of! We're the experts and we work with most reasonable budgets too.
Custom Enclosed Trailers For Sale
These unique specialty trailers are individually tailored to the theme, industry, or use that you need. We've designed and built trailers for fire departments, dive companies, restaurants, law enforcement agencies and other municipalities. No two trailers are ever the same so we take the time to completely understand your wants and needs.
There really isn't anything that we can't do. For instance, some customers want options like audio/ video, electrical connections, water and storage tanks, HVAC systems, refrigeration, and much more. Available in single, tandem, and triple axle custom enclosed trailers, building them with durable materials and long warranties come standard.
Enclosed Custom Trailer Pictures
*Click on picture to view full size.
Quality Construction
Beauty is more than skin deep. That saying is so true when it comes to custom enclosed trailer builders in Alabama. Just because it looks amazing on the outside, the real story is found in the frame, floors, walls, and axles. Our trailers are built to last with heavy duty frames and plywood flooring and walls. With proper maintenance, your rig should perform like a champ for years to come.
We design, build, and sell custom enclosed trailers in Alabama.