Cargo Trailers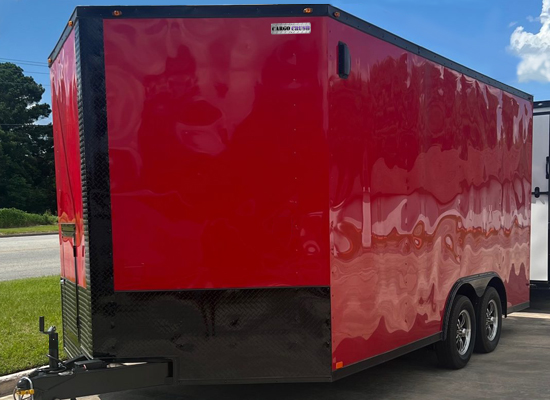 Enclosed cargo trailers are the best way to keep your equipment and valuables secure and dry. Getting the best quality at the lowest price should be a top priority.
Want the best-built cargo trailer for a great price? We "crush" the competition! Our trailers are made for the long haul! Call Us Today for a free quote.
(334) 721-3385
Whether your hauling motorcycles, landscaping equipment, concession food or anything else, Cargo Crush has the right enclosed trailer for you. Using only the best materials, our Anvil Cargo trailers are built to last.
Some of the types and widths of our tow behinds include:
Enclosed Cargo Trailers For Sale
Unless you're looking for someone's used cargo trailer, buying a new one has a ton of advantages. It all starts by choosing the right cargo trailer dealer and for so many people, they choose to Cargo Crush. Our single axle and tandem axle enclosed trailers are built with quality materials and great value in mind.
With an industry leading 5 year warranty, we have a reputation for selling some of the toughest haulers on the market. When you're towing around your livelihood, you can't take chances on anything less than dependable.
Special Purpose Cargo Trailers
Sometimes you need more than just a plain enclosed trailer and in those cases, we've got you covered. Concession trailers are a great way to take your food and beverage business to all the big events. With available options such as sinks, counters, cooking platforms and electrical connections, you'll have a mobile restaurant like no other.
Maybe you're in the music business and have a band. How great would it be to haul your band equipment and a portable stage? We have custom trailers that will allow you to do just that. From observation decks to get the best view of the track to portable bathrooms, we have the enclosed cargo trailer you need at the best price.
We specialize in enclosed cargo trailers in Alabama.